Red Plaque unveiled for young Durham firefighters who lost their lives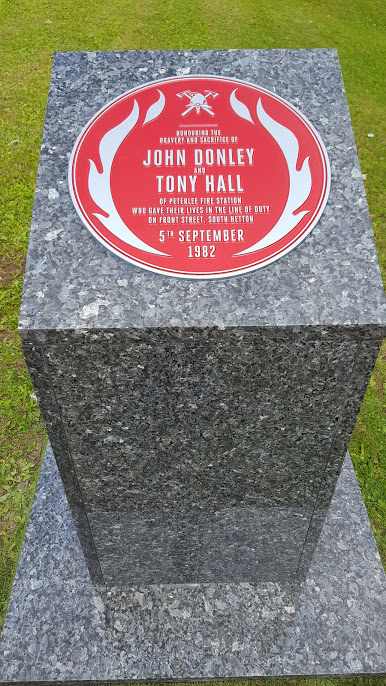 A new memorial plaque has been unveiled at Peterlee fire station to honour the bravery and sacrifice of firefighters John Donley and Tony Hall on the anniversary of their deaths.
The County Durham firefighters, 26 and 24 respectively, died when their fire appliance overturned in Front Street, South Hetton on 5 September 1982 on route to a chimney fire. Three other firefighters were badly injured.
Following the accident, all fire appliances were modified with reinforced cabs to help ensure the safety of firefighters in the future.
The new plaque is mounted on a plinth outside the station and is part of an initiative to establish memorials for firefighters who have died in the line of duty. It is funded by the Firefighters 100 Lottery.
Jim Bittlestone, secretary of the FBU in Durham, said: "Tony and John died in the most tragic of circumstances. In the line of duty doing their job, responding to a call of help from a member of the public. It has been an honour to arrange this plaque to honour their bravery and sacrifice and ensure that they are remembered having been taken from us when they were so young."
"When I told County Durham Fire and Rescue Service of the FBUs intention to commemorate their loss in this way, they were very supportive, offering to provide the stone plinth that the memorial plaque is mounted on."
Attending the unveiling ceremony were Tony and John's families including Tony's mother Rita Hall. Gillian Storey and Sue Saunders laid a wreath from their families and John's daughter Claire laid flowers. Retired firefighters who worked with both Tony and John and current firefighters were also proud to be part of the day.
Chair of the Combined Fire Authority, Cllr. John Robinson and vice chair Cllr. Audrey Laing unveiled the plaque.
Durham's Chief Fire Officer Stuart Errington said that the Firefighters 100 Lottery was a fantastic initiative and he was privileged to support and work with the FBU by providing the plinth. He said that it was very important to support the families and proud that the fire and rescue service have always kept in touch with Tony and John's families.
The Red Plaque Scheme is just one of the initiatives supported by the lottery. You can find out more about the work we do at www.firefighters100lottery.co.uk/about-us
Funds raised this year
£135,226.00
5201 tickets of our 6000 ticket goal