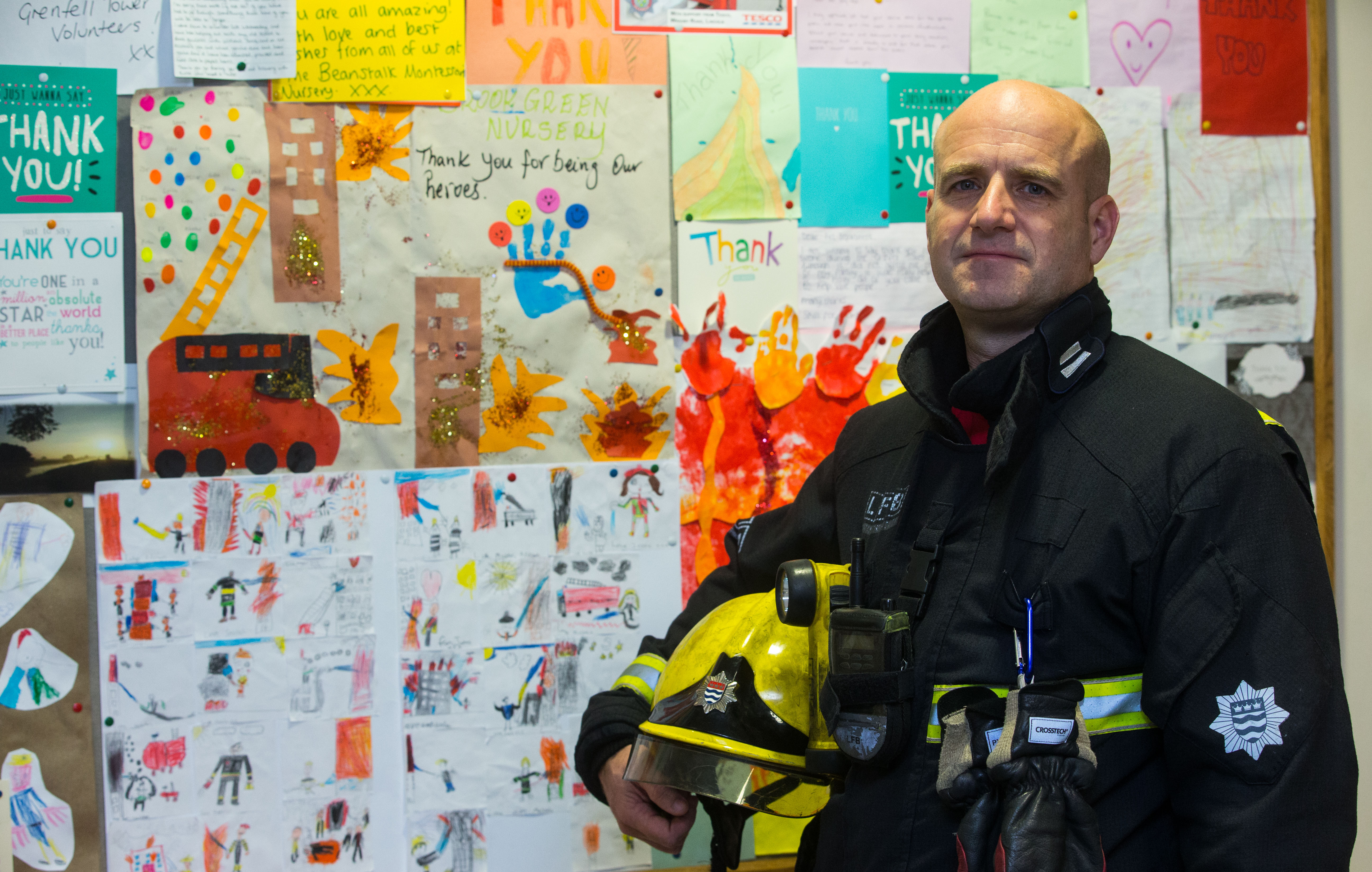 Many firefighters have seen more in one day than most people see in a whole lifetime.
Until November 2017, Grenfell firefighters were not allowed to talk about their experiences on that dreadful night. Hammersmith firefighter and union rep Matt Sephton is limited in terms of what he can say about Grenfell, as he has to adhere to the coroner's ruling not to reveal anything that could prejudice the inquiry.
When Matt arrived at Grenfell Tower it was still a small kitchen fire. He was on the sixth pump to arrive there that night, at about 1.10am. "I don't think we had multiple calls or anything," he said. "There were already videos on YouTube, but we didn't see anything until we arrived … there was a small fire going from the fourth floor all the way to the top floor, but that's all we saw … I was shocked, and it was an unusual situation. I'd never seen anything like that. You thought: 'I've got a proper job here'. We just put our BA on and that was it."
It was only when they left the building that they realised the magnitude of the fire. "This is what all our families saw on TV. It was, like, wow, what is going wrong, what has happened here? It was a massive fire by then, so it was properly shocking … the whole building's alight. You come out and think 'It's like the biggest job in the world isn't it? Unprecedented'. Nothing's been seen like that in London since World War Two."
"You couldn't see anything. Up on the floor I was on, it was just thick black smoke, it would be like the middle of the night and you've turned off all the lights.
"I told myself: 'Stay on the wall, stay holding the hose, as long as you can, follow the right-hand wall and follow it out and you are going to find your exit' – as long as you don't come off the wall and you don't let go of the hose you can get out. I saw things falling off the building right next to me. It was a surreal situation. Like being in a disaster movie."
Matt was inside Grenfell Tower until 10 am the following day. "The adrenalin keeps you going. It's not tiring at the time. To me, it just felt surreal … when I joined the fire brigade I knew about those jobs, but I never thought I'd go to something like that."
As the tragedy of Grenfell unfolded in front of the nation's eyes, the bravery of the hundreds of firefighters battling the tower block blaze was there for all to see.
What remains unseen however, is the traumatic aftermath for those who waded into the Kensington fire, and the possibility of it triggering post-traumatic stress disorder (PTSD).
Of not being able to get everyone out alive, Matt says: "Heartbreaking. That's all you can say … we're all heartbroken that we couldn't rescue everybody."
A counsellor Matt spoke to told him that the brain struggles to compute the magnitude of an incident like Grenfell. "Your brain isn't designed to deal with that through evolution," Matt explains. "If one person died you'd probably take it in a worse way."
Where there has been such a huge loss of life, the brain works in a different way than it would if one person had died, almost as if it is protecting the person from the anguish of mass death.
Firefighters involved in the Grenfell fire have all been offered counselling in light of what they saw and what they had to deal with. The lottery is committed to raising awareness of PTSD in the services and supporting those who may be dealing with it.
You can find out more about the projects we've worked on so far and how we are supporting those affected by the Grenfell tragedy on our website at www.firefighters100lottery.co.uk/landing/grenfell-anniversary
Funds raised this year
£137,202.00
5277 tickets of our 6000 ticket goal